James Chance
Consulting Director
As a leader in the Technology Advisory practice, Jim supports Answerport clients with their technology challenges. His deep understanding of technology, based on 30+ years of experience, provides clients the opportunity to maximize the value of their technology investments. Jim uses his experience to assist clients with understanding upfront and ongoing technology costs.
Jim specializes in application and database performance, and has years of experience in hardware configuration, sizing, storage management, software engineering and operational readiness.
Prior to joining Answerport, Jim was the founder of a technology company that focused on Oracle database performance and the development of ERP software enhancements. Jim's company was the first to develop an Oracle Business Intelligence product for the BaaN ERP product, which was jointly marketed with Oracle Corporation. Prior to starting his company, Jim was a lead technical consultant for The BaaN Company and held various technology and technical consulting positions. Jim is certified in programming from Computer Learning Center and was an early graduate of Oracle University for RDBMS version 5.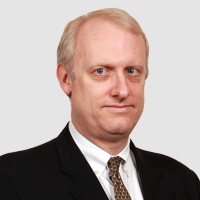 James Chance
Consulting Director